However, it is naïve to believe that the pandemic is the sole cause of the strain on healthcare. Perhaps due to their susceptibility to fall gravely ill from COVID-19, the pandemic also emphasized the ageing population of Europe. We are at this stage, where the 'baby boomer generation' has either reached retirement, or is about to. Thus, while the ageing population is a global phenomenon, the pace at which the population ages is substantially faster in some countries than in others.
Japan is widely regarded as the country with the largest demographic of elderly people. In fact, it is home to over 80,000 centenarians. However, as depicted in the table below, the EU is quickly providing one of the most distinctive examples of demographic ageing, with their rapidly ageing population having landed them in the second spot, just behind Japan.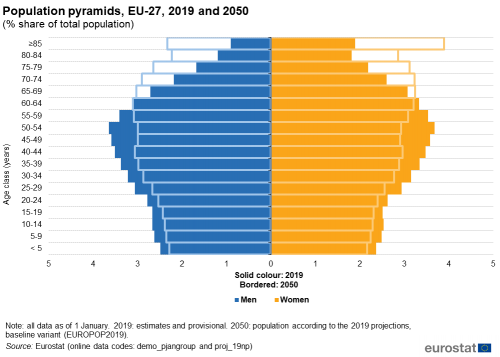 Thus, while the pandemic highlighted the need to build a more resilient healthcare system, this was complemented by the realization that the EU has a rapidly ageing demographic that not only exacerbates any existing inadequacies, but also presents a whole new set of challenges to be addressed by its healthcare systems.
As people age, they tend to require more frequent healthcare. Depending on various factors, this can often lead to a need for semi-regular care. Generally speaking, the elderly require some form of long-term care at some stage, regardless of whether this is provided at home or in facilities that include nursing homes and assisted living. The ageing demographic in Europe suggests that an increased percentage of the population will become dependent on existing infrastructures that can assist them through daily life in the coming years.
Unlike their Asian counterpart, surveys have found that most Europeans do not expect to move in with their family members when they are older. So, the potential pressure that Europe's ageing society will put on healthcare services is significantly magnified.